LOTOS Rally Team crew in second place after four special stages of Rally Rzeszów;
Kajetan and Jarek were stopped in SS2 behind car number 6, so probably their time will be corrected;
Kajetanowicz and Baran won 2 out of 4 special stages run so far and recorded 3 top three times in round 7 of the 2016 FIA ERC;
Reigning European Rally Champions went fastest on the first run of Lubenia stage (24.44 kms) – trademark test of Rally Rzeszów;
Three stages to go today – 52 competitive kilometres in extreme heat.
Friday leg of 25th Rally Rzeszów began in very stable weather conditions: under cloudless sky and in extreme heat, so that the temperatures inside rally cars reach 50-60 degrees Celsius. Under these circumstances, rather unfavourable if you need to maintain high level of concentration, Kajetan Kajetanowicz and Jarek Baran set the tone since the start of competition. They hold second position after four special stages, trailing the leaders, Bryan Bouffier and Xavier Panseri, by just 7.3 seconds. The LOTOS Rally Team crew extended the advantage over third-placed crew, Grzegorz Grzyb and Robert Hundla, to almost 50 seconds.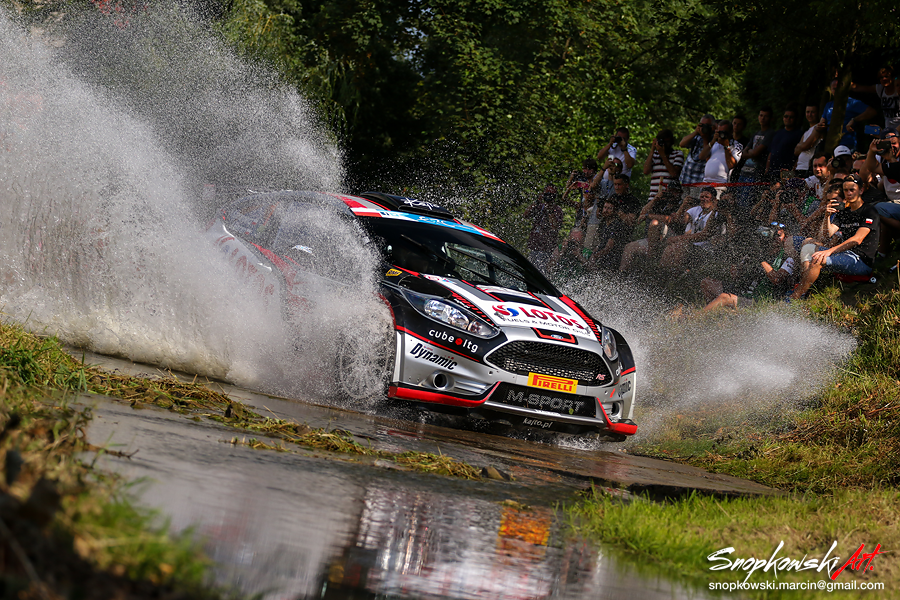 The reigning European Rally Champions started the opening stage today – almost 9-kms long Konieczkowa stage (SS2) – as the rally leaders, after setting the fastest time with comfortable advantage yesterday evening on city stage in Rzeszów. Just a couple of hundred meters into SS2 the Ford Fiesta R5 of the LOTOS Rally Team duo was stopped by safety marshals because the crew running ahead on the road, Łukasz Habaj and Piotr Woś, left the road in one of the opening corners. This meant that it was impossible to set a good time on this test. However, in such situations the Stewards often correct the time loss sustained by the crew. The events of SS2 had zero influence on rhythm of Kajetanowicz and Baran, as they won the next stage – classic Lubenia test, the longest one of Rally Rzeszów. Kajto and Jarek confirmed their excellent performance on the opening loop today with second-fastest time on Chmielnik stage (SS 4 of the Polish FIA ERC round).
The fight for the lead on Day 1 of Rally Rzeszów will continue over the second runs of the same three stages. The final Friday loop of round seven of the European Championship consists of further 52 competitive kilometres in merciless heat.
Kajetan Kajetanowicz Rally Rzeszów started in a very interesting way. The pace is very good, we are enjoying a good fight with Bryan. It's a shame with that puncture of Grzesiek Grzyb. However, this rally is very long, this is European Championship and we have over 200 competitive kilometres here. A lot of things can still happen. I think that the stages did not surprise us. We knew that they are difficult, fast and slippery. It's just great that we can slide on asphalt, going in fifth gear. We rarely have such opportunities but this is Rzeszów. We have just what I was dreaming about when I woke up today – lots of fun in the car. There are things we can't do anything about but there are others which depend on us and I am happy that we are doing our job just as we planned.

Rally Rzeszów standings after SS4:
1. Bouffier/Panseri (France, Citroen DS3 R5) 32:47.3
2. Kajetanowicz/Baran (Poland, Ford Fiesta R5) +7.3 s
3. Grzyb/Hundla (Poland, Ford Fiesta R5) +55.5 s
4. Brzeziński/Gerber (Poland, Ford Fiesta R5) +1:07.9 s 5. Kasperczyk/Syty (Poland, Ford Fiesta R5) +1.13.2 s
6. Nivette/Heller (Poland, Skoda Fabia R5) +1.16.6 s
7. Botka/Szeles (Hungary, Citroen DS3 R5) +1.22.9 s
8. Kołtun/Pleskot (Poland, Ford Fiesta R5) +1.25.9 s
8. Chuchała/Dymurski (Poland, Subaru Impreza) +1.25.9 s
10. Jeets/Toom (Estonia, Skoda Fabia R5) +1.58.7 s
Starts of Kajetan Kajetanowicz and Jarek Baran are supported by strategic partner of LOTOS Rally Team – LOTOS Group – as well as CUBE.ITG and Driving Experience. More info about Kajetan Kajetanowicz and the team available at: www.lotosrallyteam.pl, www.kajto.pl, www.facebook.com/EmocjeDoPelna, www.facebook.com/KajetanKajetanowicz and www.twitter.com/Kajto_pl.