Kajetanowicz and Baran won Rally Rzeszów: round 7 of the 2016 FIA European Rally Championship;
LOTOS Rally Team crew recorded top three times on all 13 special stages and won no less than eight of them;
Maximum efficiency of Kajetan and Jarek in Rzeszów – the Polish duo scored 39 points out of 39 possible;
76-points advantage – the European Rally Champions consolidated their lead in the FIA ERC standings;
Kajetanowicz and Baran won both legs of the Polish round of the European Championship.
Kajetan Kajetanowicz and Jarek Baran could have not imagined a better, more spectacular and commanding comeback to the special stages of Rally Rzeszów which was included in the FIA European Rally Championship for the first time this year. Today the LOTOS Rally Team duo added third victory in this event to their tally – and achieved it in impressive style. The FIA ERC leaders proved that they were undoubtedly the fastest crew of this round – Kajetan and Jarek recorded top three times on all 13 special stages and won eight of them. Their Ford Fiesta R5 with number 1 topped not only the overall standings of the event but also won both legs. This means that the reigning European Champions scored maximum amount of points in Rzeszów: 25 for rally victory and 14 for going fastest on Day 1 and Day 2.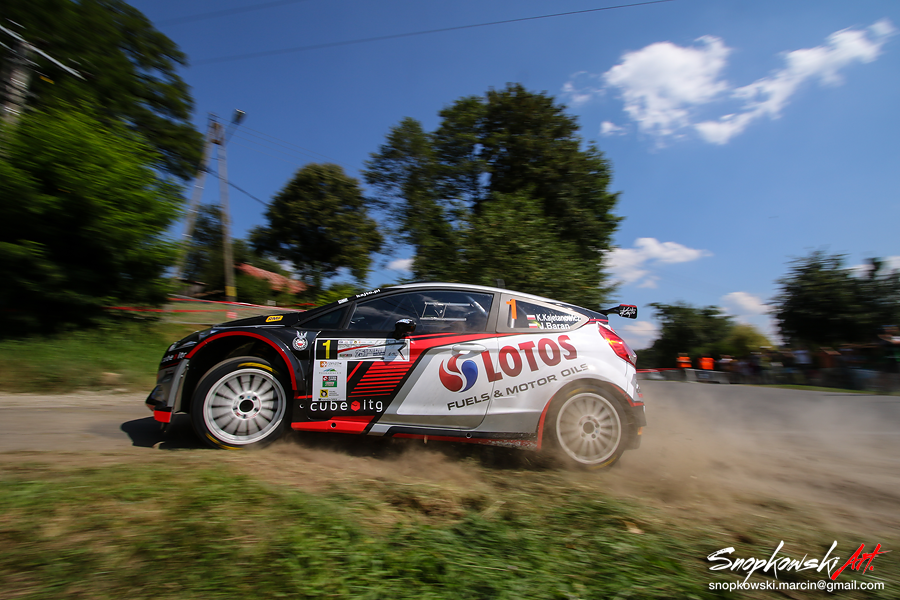 The atmosphere during first full day of competition in Rally Rzeszów was very hot – not only due to extremely high temperatures but above all thanks to fierce battle between Kajetanowicz/Baran and Bryan Bouffier/Xavier Panseri. After seven special stages the Poles were on top – Kajetanowicz and Baran won Leg 1 with over 30 seconds in hand over their French rivals. The LOTOS Rally Team driver sealed this success with his stage victory number 100 in the FIA ERC, winning the final Friday stage – Chmielnik. Also on Saturday the reigning European Rally Champions drove quickly and spectacularly, maintaining consistent pace irrespective of changeable and tricky conditions. Kajetan and Jarek won the opening three stages on Saturday and increased their lead to almost one minute. On the final three stages the Polish duo maintained concentration and high pace, reaching the finish line of 25th Rally Rzeszów as undisputed winners.
After winning round 7 of the 2016 FIA ERC Kajetanowicz and Baran consolidated their championship lead. The LOTOS Rally Team duo scored 160 points in six outings this season. This means that their advantage over second-placed Alexey Lukyanuk and Alexey Arnautov reached 76 points and third-placed Ralfs Sirmacis and Arturs Simins trail the Polish crew by 81 points. On top of that LOTOS Rally Team extended the lead in Team standings to 56 points. Kajetanowicz and Baran also lead in stage wins classification: the Polish duo won 29 out of 82 stages which they started (35%) and finished 78% of them in top three (64 out of 82). The next FIA European Rally Championship round, Barum Czech Rally Zlin – also on asphalt – takes place on 26-28 August.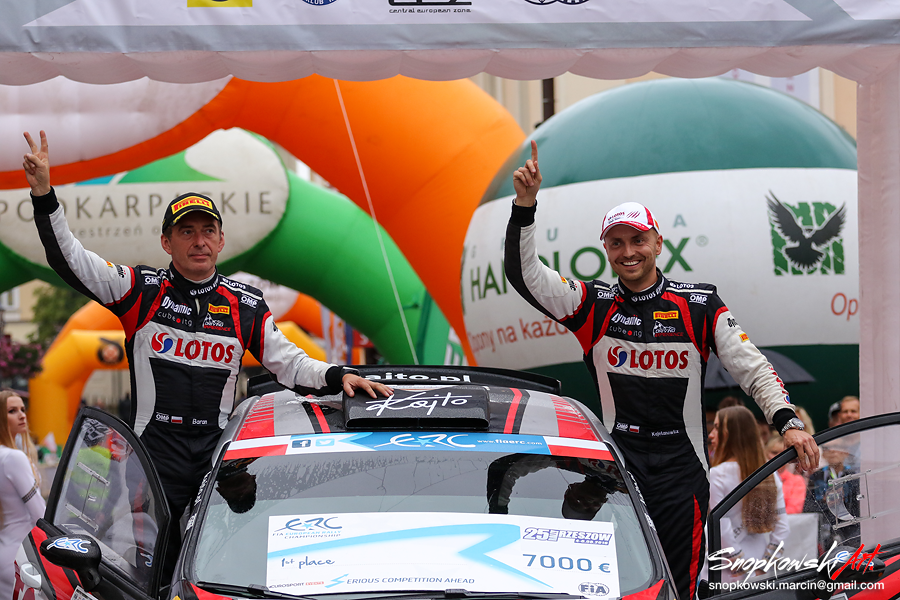 Kajetan Kajetanowicz From the sportsmen fighting at the top level you require not only results, determination, commitment and professional approach but also ability to think and calculate in difficult moments. During a rally we have to cope with this in split seconds, often being massively tired, at high heart rate, with temperatures inside the car which are not comfortable at all. Such a difficult moment for us happened today, when we started the final loop, having several dozen seconds in hand. We had to think carefully what to do and how to achieve our goal without taking unnecessary risks. We fulfilled our plan and I am proud of the whole team and of our victory. We took the win in our home country, although it was not my home rally – contrary to what our rivals believed – as I live 300 kilometres from Rzeszów. However, I can safely say that my joy today might be as great as when I clinched the European Championship title.

Jarek Baran For sure it was not an easy rally – fast, technical route and demanding rivals – but this is what the FIA European Rally Championship is all about. I enjoy this modified route, with stages south of Rzeszów. Long, very quick tests with many cuts and even more bollards which prevent from cutting. Despite appearances, this unique hindrance requires appropriate pace notes and represents a huge challenge for the crew. I think we found a right way to do it.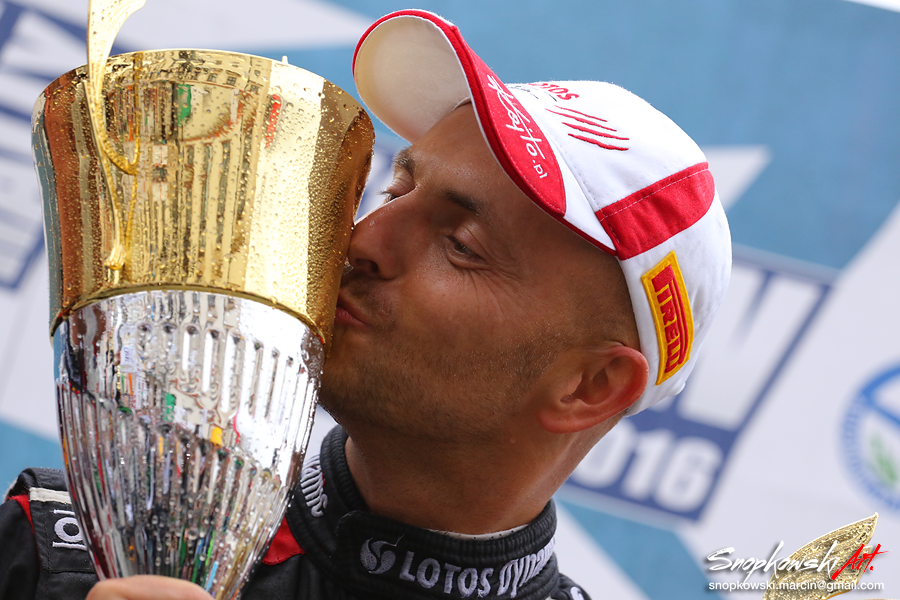 Unofficial final classification Rally Rzeszów:
1. Kajetanowicz/Baran (Poland, Ford Fiesta R5) 2:01:37.1
2. Bouffier/Panseri (France, Citroen DS3 R5) +46.0 s
3. Grzyb/Hundla (Poland, Ford Fiesta R5) +3:37.6 s
4. Habaj/Woś (Poland, Ford Fiesta R5) +4:04.1 s
5. Brzeziński/Gerber (Poland, Ford Fiesta R5) +4:19.4 s
6. Kasperczyk/Syty (Poland, Ford Fiesta R5) +5.06.1 s
7. Chuchała/Dymurski (Poland, Subaru Impreza) +5.19.7 s
8. Kołtun/Pleskot (Poland, Ford Fiesta R5) +6.22.7 s
9. Jeets/Toom (Estonia, Skoda Fabia R5) +6.42.9 s
10. Tlustak/Kucera (Czech Republic, Skoda Fabia R5) +9.46.0 s
The 2016 FIA ERC standings after 25th Rally Rzeszów:
1. Kajetan Kajetanowicz (Poland) 160 points
2. Alexey Lukyanuk (Russia) 84 points
3. Ralfs Sirmacis (Latvia) 79 points
4. Craig Breen (Ireland) 38 points
5. Freddy Loix (Belgium) 38 points
7. Raul Jeets (Estonia) 38 points
8. Jarosław Kołtun (Poland) 38 points
6. Ricardo Moura (Portugal) 37 points
9. Bryan Bouffier (France) 37 points
10. Wojciech Chuchała (Poland) 34 points
Starts of Kajetan Kajetanowicz and Jarek Baran are supported by strategic partner of LOTOS Rally Team – LOTOS Group – as well as CUBE.ITG and Driving Experience. More info about Kajetan Kajetanowicz and the team available at: www.lotosrallyteam.pl, www.kajto.pl, www.facebook.com/EmocjeDoPelna, www.facebook.com/KajetanKajetanowicz and www.twitter.com/Kajto_pl