Almost one minute in hand after SS10: the LOTOS Rally Team crew consolidates their lead in the Polish FIA ERC counter;
Kajetanowicz and Baran won all stages run so far today in Rally Rzeszów;
Wet, dry and damp asphalt – full range of treacherous conditions on the special stages on Leg 2 of Rally Rzeszów;
Three stages to go – 53.07 kms of competition on narrow roads with changeable grip levels separate the crews from the finish of 25th Rally Rzeszów.
After extreme heat yesterday, today the crews competing in 25th edition of Rally Rzeszów faced a wide variety of conditions. Heavy clouds covered the sky around Rzeszów, threatening with intermittent drizzles, so on each of three stages run on Saturday sections of completely dry asphalt were mixed with damp parts and places literally soaked with rainwater. Kajetan Kajetanowicz and Jarek Baran excelled in these treacherous conditions, further extending the lead over their rivals.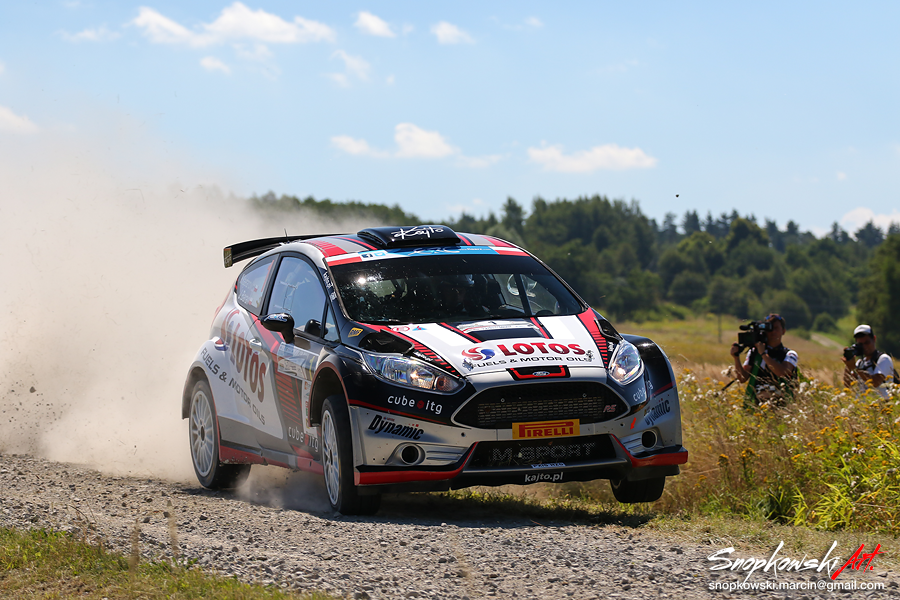 The LOTOS Rally Team duo started Leg 2 with dominating the longest stage run today, Korczyna, by over 14 seconds and consolidated their lead in round 7 of the 2016 FIA ERC. Kajetan and Jarek notched up another fastest times on following two tests and finished the opening loop on Saturday with full house of stage wins and almost one minute gap to Bryan Bouffier and Xavier Panseri. Grzegorz Grzyb and Robert Hundla, running in third place, lose over three minutes to the reigning European Rally Champions. There are still three special stages to go in the Polish FIA ERC counter. The last one starts at 15:50 CET and the rally winners will arrive at the ceremonial finish on the main square in Rzeszów shortly before 18:00 CET.
Kajetan Kajetanowicz We were prepared for mixed conditions already ahead of the opening stage. There was a tough decision to take: whether to change tyres to the soft spares before the start of the first test. Part of Korczyna stage runs at very high altitude, so there were clouds and drizzle, road was fully wet and other parts remained completely dry. Before this test we called our friends, rally fans, and asked about the conditions. I think I made the right choice although in some places we were sliding a lot, so it was a bit "funny". I thought I was not driving fast because in mixed conditions the pace is always floating and then it turns out that the time is very good. This was the case today, we won the opening stage and then another two. It is encouraging and inspiring but there are still three stages to go and we are facing a long road to the finish. We will do our best to drive fast but with less risk. On the second loop there will be even more dirt on the road and on top of that we don't know what the weather will be like and which cloud will bring rain. This is why I will make the best possible use of my experience and of the car I have in my hands.
Rally Rzeszów standings after SS10:
1. Kajetanowicz/Baran (Poland, Ford Fiesta R5) 1:31:34.9
2. Bouffier/Panseri (France, Citroen DS3 R5) +53.9 s
3. Grzyb/Hundla (Poland, Ford Fiesta R5) +3:04.6 s
4. Brzeziński/Gerber (Poland, Ford Fiesta R5) +3:19.0 s
5. Kasperczyk/Syty (Poland, Ford Fiesta R5) +3.54.3 s
6. Habaj/Woś (Poland, Ford Fiesta R5) +4:07.4 s
7. Chuchała/Dymurski (Poland, Subaru Impreza) +4.18.7 s
8. Kołtun/Pleskot (Poland, Ford Fiesta R5) +5.05.7 s
9. Jeets/Toom (Estonia, Skoda Fabia R5) +5.37.0 s
10. Nivette/Heller (Poland, Skoda Fabia R5) +6.48.3 s
Starts of Kajetan Kajetanowicz and Jarek Baran are supported by strategic partner of LOTOS Rally Team – LOTOS Group – as well as CUBE.ITG and Driving Experience. More info about Kajetan Kajetanowicz and the team available at: www.lotosrallyteam.pl, www.kajto.pl, www.facebook.com/EmocjeDoPelna, www.facebook.com/KajetanKajetanowicz and www.twitter.com/Kajto_pl.