Quick pace and confident performance of LOTOS Rally Team – the Polish duo consistently carry out their task for Barum Czech Rally Zlin;
After opening three stages Kajetanowicz and Baran hold third position in the overall standings;
Fierce fight between the frontrunners is the trademark of the Czech FIA ERC counter – time gaps on the stages do not exceed several seconds.
High-revving engines set the tone yesterday evening in Zlin, together with several tens of thousands of passionate fans, cheering on the opening stage of Barum Czech Rally Zlin. Kajetan Kajetanowicz and Jarek Baran drove quickly, cleanly and accurately on over nine kilometres of the street loop and set third-fastest time on this spectacular superspecial. They trailed the winners of the twisty stage, full of hairpins, by just 1.3 second.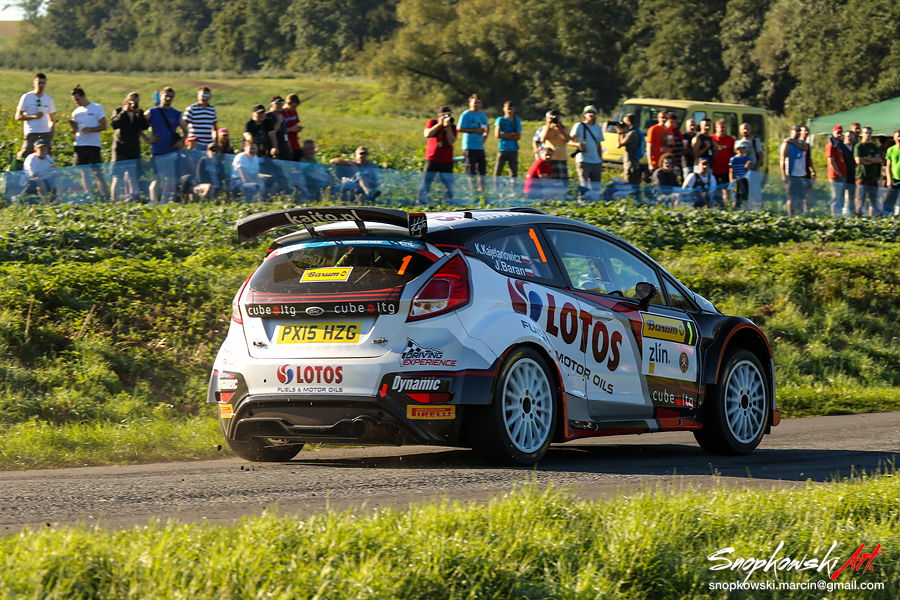 Today the crews tackling the stages of the Czech FIA ERC round were greeted by cloudless sky and steadily raising temperatures. The European Rally Championship leaders have consistently carried out their plan, maintaining fast and confident pace right from the beginning. Kajto and Jarek featured right at the front on each stage and hold third place in the overall classification of Barum Czech Rally Zlin. Four-time winner of this event Jan Kopecky is leading the rally, followed by Alexey Lukyanuk, second-placed driver of the 2016 FIA ERC.
After 30-minutes service break the crews start the second loop of the rally which consists of Hostalkova (13.75 kms), Semetin (11.51 kms) and Brezova (11.74 kms) stages. Another service break awaits them after SS6 and Saturday leg of "Barumka" ends with the longest of today's three loops: 47.5 competitive kilometres.
Kajetan Kajetanowicz The opening loop was not very long, just two special stages – but both were quite exciting. A lot happened on these few kilometres. It is very narrow and bumpy, so it is easy to slide off the road. Some drivers were not so lucky and went out. We are still in the fight. I wonder what we can still improve. I am not making too many mistakes, I am not taking risks, so for sure we can go a bit faster. However, this is a dilemma and I have to answer a very difficult question for every rally driver: is there a need to raise the pace, is it worth doing? I will try to focus but it is not easy – it is very hot inside the car, over 60 degrees Celsius – and the following loop will be even hotter. The temperatures are raising, the Tarmac is warmed up, so we will try different tyres. The team works very well and our feeling is also good, so we are ready for the next loop.
Barum Czech Rally Zlin standings after SS3:
1. Kopecky/Dresler (Czech Republic, Skoda Fabia R5) 25:38.4
2. Lukyanuk/Arnautov (Russia, Ford Fiesta R5) +3.5 s
3. Kajetanowicz/Baran (Poland, Ford Fiesta R5) +13.2 s
4. Kostka/Kucera (Czech Republic, Ford Fiesta R5) +13.6 s
5. Bouffier/Dini (France, Citroen DS3 R5) +19.2 s
6. Valousek/Havelkova (Czech Republic, Skoda Fabia R5) +23.0 s
7. Tarabus/Trunkat (Czech Republic, Skoda Fabia R5) +24.3 s
8. Cemy/Cemohorsky (Czech Republic, Skoda Fabia R5) +25.6 s
9. Sirmacis/Simins (Latvia, Skoda Fabia R5) +27.2 s
10. Kreim/Frank (Germany, Skoda Fabia R5) +40.6 s
Starts of Kajetan Kajetanowicz and Jarek Baran are supported by strategic partner of LOTOS Rally Team – LOTOS Group – as well as CUBE.ITG and Driving Experience. More info about Kajetan Kajetanowicz and the team available at: www.lotosrallyteam.pl, www.kajto.pl, www.facebook.com/EmocjeDoPelna, www.facebook.com/KajetanKajetanowicz and www.twitter.com/Kajto_pl