LOTOS Rally Team beyond the reach of their rivals – second consecutive FIA ERC championship title for the Polish team;
Kajetanowicz and Baran hold comfortable lead in the championship standings;
Top three finish number 250 – Kasava test (SS13) marked 250th stage podium in the FIA ERC for Kajetanowicz;
Runner-up spot on Day 2 of Barum Czech Rally Zlin – LOTOS Rally Team crew fast and efficient during today's leg of the Czech event.
Although we have to wait for the final outcome in individual FIA ERC classifications until September and Rally Liepaja in Latvia, LOTOS Rally Team can already celebrate their second consecutive European Rally Championship title in Teams standings. After today's conclusion of Barum Czech Rally Zlin the Polish squad has 58-points advantage over their nearest rivals. There are 50 points for grabs in the remaining rallies, so the team of Kajetanowicz cannot lose the lead.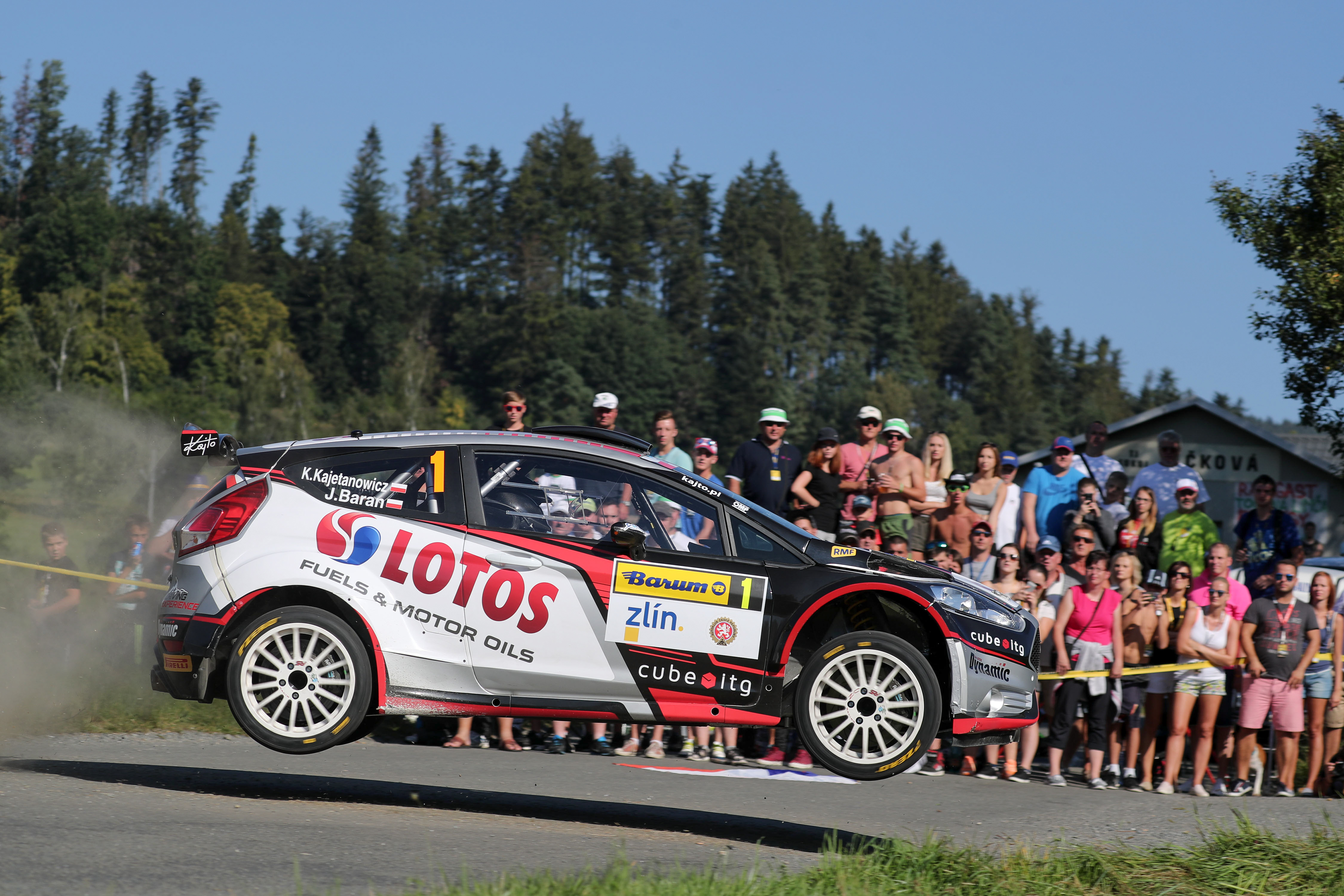 Barum Czech Rally Zlin was full of unexpected twists, dramas and emotions which additionally raised the temperature of competition, held in relentless heat. There was more action during this event than in some other rallies combined. After strong start and top times set by Kajetanowicz and Baran on the opening stages, the LOTOS Rally Team crew had to retire midway through Leg 1, due to engine failure. On Sunday the European Rally Champions returned to competition and successfully fought for points in Leg 2 standings. During the final loop Kajto recorded his 250th top three stage time in the FIA ERC, achieving this milestone on special stage number 13 – Kasava. The Polish crew finished Leg 2 of the Czech event in second position, behind Skoda factory driver Jan Kopecky, and scored six points. The Czech driver won his home event for the fifth time, after fierce battle with Alexey Lukyanuk. However, the second-placed driver in the FIA ERC ultimately made an error and went off the road on SS15, the final test of the rally. It means that the Russian scored just six points in Zlin, for Day 1.
After Barum Czech Rally Zlin, Kajetan Kajetanowicz and Jarek Baran hold their comfortable, 76-points advantage in the European Championship. The only crew which still has a chance to clinch the title are Alexey Lukyanuk and Alexey Arnautov. The Latvian driver Ralfs Sirmacis lost his hopes as he did not score a single point in the Czech event. There are two gravel rallies to go before the end of the 2016 FIA ERC season: in Latvia (16-18 September) and Cyprus (7-9 October).
Kajetan Kajetanowicz I remember that as a high school student I used to search for simple solutions, I wanted to take shortcuts in order to achieve the goal with minimum effort. Today I see it as a privilege of youth because rallies have taught me a lot. Now I know that all valuable, magic, incredible things in our life happen outside the comfort zone: when we dare to leave it or when we are forced to do it by a twist of fate – just like in this year's Barum Czech Rally Zlin. Of course at first it is difficult to come to terms with it, we are not happy with the situation. We obviously want to go back where we feel safely and where everything seems familiar. This is a moment of trial, when you have to decide quickly if you are going to treat the situation as a challenge or as a curse. We leave our comfort zone quite often this season. It raises the pressure and heartbeat but also the significance of the success which is still within our reach. We also experience unique moments, like pursuing the rivals during Acropolis Rally, battle in the Azores, victory in Rzeszów or precious points scored in Barum Czech Rally Zlin. This is why I thank everybody who is with me in every situation. When we have to swallow a bitter pill, like yesterday, and when we score the European Rally Championship title in Teams standings, like today. This is how I make sure that we are always on the right path.
Barum Czech Rally Zlin Leg 2 standings:
1. Kopecky/Dresler (Czech Republic, Skoda Fabia R5) 56:50.7
2. Kajetanowicz/Baran (Poland, Ford Fiesta R5) +45.5 s
3. Cerny/Cemohorsky (Czech Republic, Skoda Fabia R5) +1:07.7 s
4. Valousek/Havelkova (Czech Republic, Skoda Fabia R5) +1:13.4 s
5. Kostka/Kucera (Czech Republic, Skoda Fabia R5) +1:25.9 s
6. Cherain/Cuvelier (Belgium, Ford Fiesta R5) +1:51.5 s
7. Odlozilik/Turecek (Czech Republic, Ford Fiesta R5) +2:02.2 s
8. Vicek/Zakova (Czech Republic, Ford Fiesta R5) +2:11.7 s
9. Botka/Szeles (Hungary, Citroen DS3 R5) +2:26.3 s
10. Jakes/Ehlova (Czech Republic, Skoda Fabia S2000) +2:32.6 s
The 2016 FIA ERC standings after 46th Barum Czech Rally Zlin:
1. Kajetan Kajetanowicz (Poland) 166 points
2. Alexey Lukyanuk (Russia) 90 points
3. Ralfs Sirmacis (Latvia) 79 points
4. Bryan Bouffier (France) 42 points
5. Jan Kopecky (Czech Republic) 39 points
6. Craig Breen (Ireland) 38 points
7. Freddy Loix (Belgium) 38 points
8. Raul Jeets (Estonia) 38 points
9. Jarosław Kołtun (Poland) 38 points
10. Ricardo Moura (Portugal) 37 points
The 2016 FIA ERC Teams standings after 46th Barum Czech Rally Zlin:
1. LOTOS Rally Team 127 points
2. C-Rally 68 points
3. Sports Racing Technologies 66 points
4. Tlustak Racing 56 points
5. Botka Rally Team 49 points
Starts of Kajetan Kajetanowicz and Jarek Baran are supported by strategic partner of LOTOS Rally Team – LOTOS Group – as well as CUBE.ITG and Driving Experience. More info about Kajetan Kajetanowicz and the team available at: www.lotosrallyteam.pl, www.kajto.pl, www.facebook.com/EmocjeDoPelna, www.facebook.com/KajetanKajetanowicz and www.twitter.com/Kajto_pl