Kajetanowicz and Baran hold third position in Leg 2 standings of round 8 of the FIA ERC;
High pace of the Polish duo – LOTOS Rally Team crew notches up another top-three stage times in the strongest field of this season;
Time for three final stages – almost 60 kilometres of fierce fight separate us from rally finish in Zlin.
Kajetan Kajetanowicz and Jarek Baran returned to the competition in Barum Czech Rally Zlin today. On Sunday special stages reigning European Rally Champions fight for points awarded for position on Leg 2 of the rally.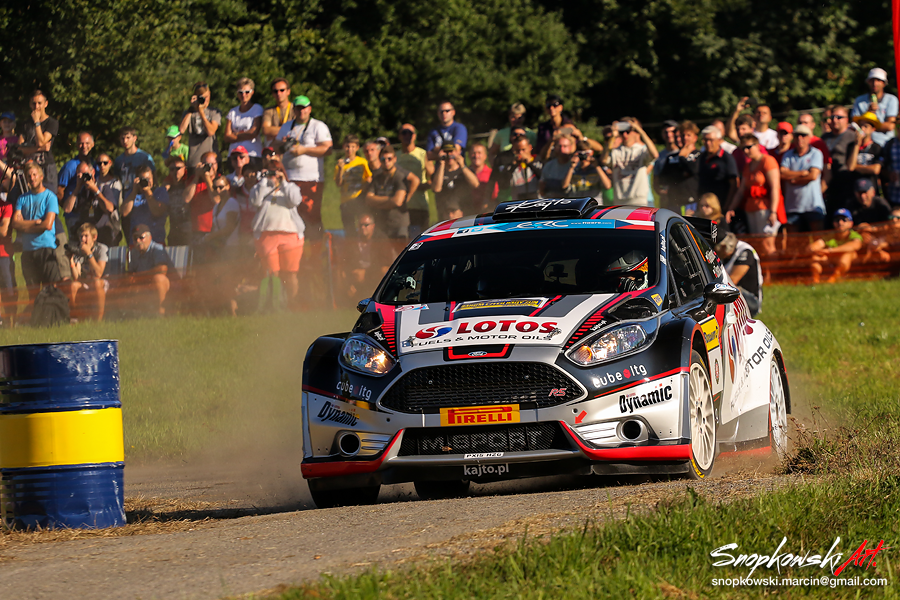 Just like yesterday, today the LOTOS Rally Team crew performed well on demanding Tarmac stages of "Barumka". Kajto and Jarek finished off this successful morning with third-fastest time on classic Majak stage, the final test of the loop (13.25 kms). After three stages run so far today the Polish duo holds third position in classification of Leg 2 of round 8 of the FIA ERC. Rally leader Jan Kopecky is on his way to fifth victory in this event. Alexey Lukyanuk, second-placed driver in the championship, is heading for runner-up spot.
There are still three stages to go in Barum Czech Rally Zlin. After service break the crews will tackle Kasava (19.42 kms), Pindula (18.43 kms) and Majak (13.25 kms) stages. The advantage of Kajetanowicz and Baran in overall championship standings is so comfortable that irrespective of the final results of the Czech FIA ERC counter the LOTOS Rally Team crew will leave Zlin as the championship leaders.
Kajetan Kajetanowicz Undoubtedly the pace is fast and it could be faster as well. We are trying to find our way in this situation which is new to us. Not always everything goes according to plan. After yesterday's problems today we started the fight for seven points, not for 39. But this is rallying, I think that it is worth fighting for every single point and this is what we will do until the end..
Barum Czech Rally Zlin Leg 2 standings after SS12:
1. Kopecky/Dresler (Czech Republic, Skoda Fabia R5) 28:38.4
2. Lukyanuk/Arnautov (Russia, Ford Fiesta R5) +5.4 s
3. Kajetanowicz/Baran (Poland, Ford Fiesta R5) +19.1 s
4. Tarabus/Trunkat (Czech Republic, Skoda Fabia R5) +19.8 s
5. Valousek/Havelkova (Czech Republic, Skoda Fabia R5) +36.5 s
6. Cemy/Cemohorsky (Czech Republic, Skoda Fabia R5) +37.4 s
7. Kreim/Christian (Germany, Skoda Fabia R5) +38.8 s
8. Bouffier/Dini (France, Citroen DS3 R5) +50.1 s
9. Cherain/Cuvelier (Belgium, Ford Fiesta R5) +58.0 s
10. Odlozilik/Turecek (Czech Republic, Ford Fiesta R5) +58.6 s
Starts of Kajetan Kajetanowicz and Jarek Baran are supported by strategic partner of LOTOS Rally Team – LOTOS Group – as well as CUBE.ITG and Driving Experience. More info about Kajetan Kajetanowicz and the team available at: www.lotosrallyteam.pl, www.kajto.pl, www.facebook.com/EmocjeDoPelna, www.facebook.com/KajetanKajetanowicz and www.twitter.com/Kajto_pl