Successful beginning for Kajetanowicz and Baran in Rally Liepaja: the Polish duo starts the fight with second-fastest time in the Qualifying Stage;
Excellent result for the LOTOS Rally Team crew: top-three finish for 10th time in a row and 18th overall in the FIA ERC Qualifying;
Fight for points in the Latvian FIA ERC counter gets underway tomorrow, on gravel stages around Liepaja;
Small gaps separating the frontrunners in the Qualifying Stage promise a tight battle in Rally Liepaja.
Rally Liepaja, round 9 of the 2016 FIA European Rally Championship, began today with the Qualifying Stage which commenced at 16:00 CET. Current championship leaders and main candidates for the title, Kajetan Kajetanowicz and Jarek Baran, started this test as the first car. The LOTOS Rally Team crew impressed with fast, assured and effective performance on 4.57-kms gravel stage, posting second-fastest time and extended their streak of top-three results in the FIA ERC Qualifying. Today's result marks 10th consecutive and 18th overall qualifying podium for Kajetan and Jarek. Top time was recorded by the Russian crew of Alexey Lukyanuk and Alexey Arnautov. Behind Kajetanowicz and Baran, next positions went to Sirmacis/Simins (+1.099 s), Habaj/Spentany (+1.519 s) and Estonian Rally Champions Plangi/Sarapuu (+1.629 s).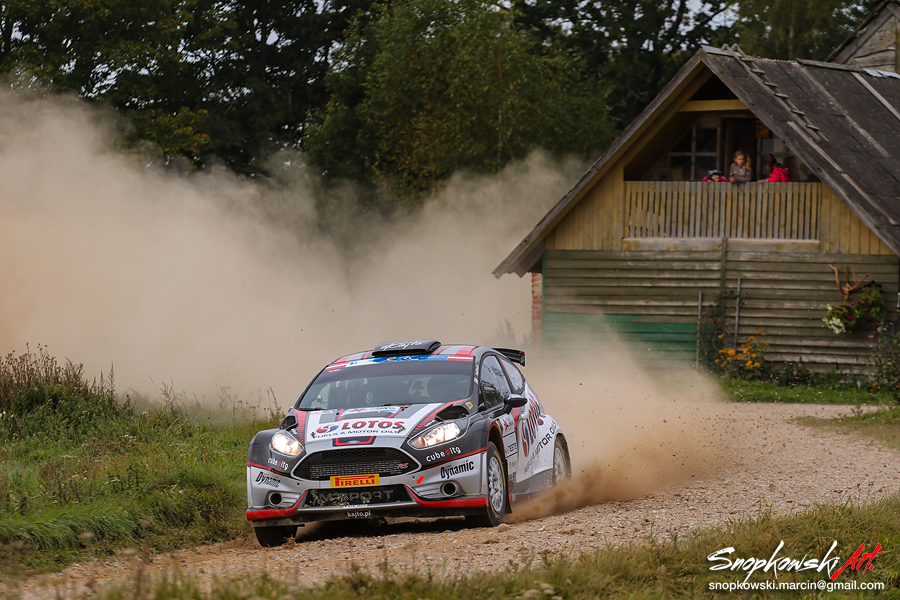 The Qualifying Stage results are crucial especially in events such as Rally Liepaja. The starting position is extremely important on gravel: it is better not to run as one of the first crews in dry conditions, in order to avoid "cleaning" the road of slippery, loose gravel. At the same time running towards the back is also risky, as the stages can be already destroyed by preceding cars. On the other hand in wet conditions it is better to run towards the front. Top fifteen drivers select their starting positions for Leg 1 according to the Qualifying Stage results. The winner has the first choice of the best starting position for him: a privilege and a challenge at the same time. Kajetanowicz, who posted second-fastest time in the Qualifying Stage, picked 14th starting position – the last available, after Lukyanuk chose 15th position.
The competition for victory in round 9 of the 2016 FIA European Rally Championship takes place over 13 special stages. There are 203.6 competitive kilometres ahead, on fast, gravel roads. On Saturday, September 17, the crews tackle more than a half of this distance (102.8 kms), fighting on seven special stages. The first one – almost 13-kms Padure test – starts at 8:25 CET. There is also the longest stage of the rally – almost 29-kms Alsunga test. The opening leg ends with two runs of city stage Great Amber (1.67 kms). Unlike the other five tests on Saturday, the street stage in Liepaja runs on asphalt, not on gravel.
Kajetan Kajetanowicz enjoys 76-points advantage over his championship rival Alexey Lukyanuk ahead of Rally Liepaja. The fight in Team standings is already finished: LOTOS Rally Team clinched the title during previous round of the championship.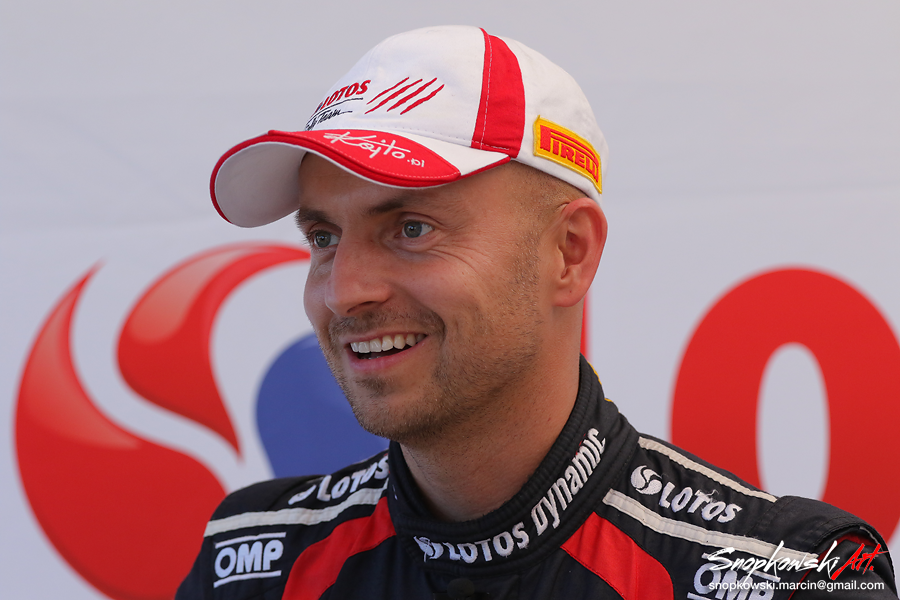 Kajetan Kajetanowicz Smile on my face, like the one you see now, does not depend on the surface we drive on – whether it is snow or ice, gravel or asphalt – but on the fun I feel behind the steering wheel and in the car. Good results in Free Practice and Qualifying Stage absolutely make us even more happy. This rally will be completely different to the previous editions. We drove here twice in winter but in summer everything is different: not only the fans do not wear thick winter jackets but also the stages look different – with lots of bushes and stones. On top of that we are going to fight on many new sections. I feel that the stages are faster, there are plenty of straights and false corners – we do not lift at all ahead of them. Driving on loose surface has always brought me lots of fun and this is the plan for this rally: to enjoy our driving. Of course we are not competing just for fun but also – or rather above all – we are here to fight for the title. We want to defend it. Although I do not want to think too much about it, I know that this goal is "hanging" somewhere in the back of my head and I have to bear it in mind while driving. Of course it is not easy because in order to set fast times and maintain consistent pace you have to be focused just on driving. For us it is enough to finish in fourth or fifth position and still claim the title but we want to fight for podium in this rally and I think that we are able to keep the pace which should bring us this kind of result.
The results of the Qualifying Stage for Rally Liepaja – round 9 of the 2016 FIA ERC:
1. Lukyanuk/Arnautov (Russia, Mitsubishi Lancer Evo X) 2:13.590
2. Kajetanowicz/Baran (Poland, Ford Fiesta R5) +0.751 s
3. Sirmacis/Simins (Latvia, Skoda Fabia R5) +1.850 s
4. Habaj/Spentany (Poland, Ford Fiesta R5) +2.274 s
5. Plangi/Sarapuu (Estonia, Mitsubishi Lancer Evo X) +2.388 s
6. Jeets/Toom (Estonia, Skoda Fabia R5) +2.864 s
7. Larsen/Eriksen (Norway, Ford Fiesta R5) +3.315 s
8. Botka/Szeles (Hungary, Citroen DS3 R5) +3.315 s
9. Kisiels/Ronis (Latvia, Skoda Fabia R5) +5.022 s
10. Kołtun/Pleskot (Poland, Ford Fiesta R5) +5.613 s
Rally Liepaja in numbers:
1st place of Kajetanowicz and Baran in the FIA ERC standings before Rally Liepaja;
9th round of the 2016 FIA European Rally Championship;
475 kms is the straight-line distance from Warsaw, capital city of Poland, to rally base in Liepaja, third-largest city in Latvia;
3rd outing of Kajetanowicz in this event;
43 crews entered for this year's rally;
7 crews from Poland take part in the Latvian FIA ERC counter;
28.75 kms – the longest special stage of the rally – SS3;
166 points in seven rallies – the LOTOS Rally Team crew comfortably leads in the 2016 FIA ERC standings;
4th appearance of Rally Liepaja in the FIA European Rally Championship;
203.6 kilometres – combined length of 13 special stages;
1 – starting number of the LOTOS Rally Team crew in this event;
76 points – the advantage of Kajetanowicz over second placed driver – Russia's Alexey Lukyanuk;
45% of the special stages are completely new, unused in previous seasons;
Podium places for Kajetanowicz and Baran in 5 out of 7 FIA ERC outings this season;
For the 1st time Rally Liepaja takes place on gravel;
4 new special stages included in this year's route;
10 out of 11 stages in last year's rally Kajetanowicz and Baran finished in top three;
29 out of 93 stages (31%) – the amount of stage wins for Kajto and Jarek in their seven FIA ERC outings this year, this is the best ratio among all competitors;
1st place of LOTOS Rally Team in championship standings ahead of round nine. The Polish squad has already clinched their second consecutive championship title during previous round – Barum Czech Rally Zlin;
67 out of 93 stages (72%) of the 2016 FIA ERC finished in top three by the LOTOS Rally Team crew;
3 Polish Rally Champions – Kajetanowicz, Chuchała and Habaj – take part in Rally Liepaja 2016.
Schedule of Rally Liepaja – round 9 of the 2016 FIA ERC (all times are CET):
Friday 16 September:
13:30 – Free Practice
16:00 – Qualifying Stage (4.57 kms)
19:45 – Ceremonial Start
Saturday 17 September (7 special stages; 102,78 kms):
08:25 – SS 1 (12.70 kms)
09:05 – SS 2 (17.89 kms)
09:40 – SS 3 (28.75 kms)
11:40 – Service A – 30 mins (Liepaja)
13:40 – SS 4 (27.40 kms)
14:30 – SS 5 (12.70 kms)
16:55 – Service B – 30 mins (Liepaja)
17:40 – SS 6 (1.67 kms)
17:53 – SS 7 (1.67 kms)
18:13 – Service C – 45 mins (Liepaja)
Sunday 18 September (6 special stages; 100,82 kms):
07:15 – Service D – 15 mins (Liepaja)
08:30 – SS 8 (10.29 kms)
09:00 – SS 9 (17.07 kms)
09:30 – SS 10 (23.05 kms)
11:00 – Service E – 30 mins (Liepaja)
12:30 – SS 11 (10.29 kms)
13:00 – SS 12 (17.07 kms)
13:30 – SS 13 (23.05 kms)
14:42 – Service F – 10 mins (Liepaja)
15:00 – Ceremonial Finish (Liepaja)
The 2016 FIA ERC standings ahead of Rally Liepaja:
1. Kajetan Kajetanowicz (Poland) 166 points
2. Alexey Lukyanuk (Russia) 90 points
3. Ralfs Sirmacis (Latvia) 79 points
4. Bryan Bouffier (France) 42 points
5. Jan Kopecky (Czech Republic) 39 points
6. Craig Breen (Ireland) 38 points
7. Freddy Loix (Belgium) 38 points
8. Raul Jeets (Estonia) 38 points
9. Jarosław Kołtun (Poland) 38 points
10. Ricardo Moura (Portugal) 37 points
The 2016 FIA ERC Teams standings ahead of Rally Liepaja:
1. LOTOS Rally Team 127 points
2. C-Rally 68 points
3. Sports Racing Technologies 66 points
4. Tlustak Racing 50 points
5. Tiger Energy Drink Rally Team 46 points
6. Botka Rally Team 43 points
7. T&T Czech National Team 30 points
Starts of Kajetan Kajetanowicz and Jarek Baran are supported by strategic partner of LOTOS Rally Team – LOTOS Group – as well as CUBE.ITG and Driving Experience. More info about Kajetan Kajetanowicz and the team available at: www.lotosrallyteam.pl, www.kajto.pl, www.facebook.com/EmocjeDoPelna, www.facebook.com/KajetanKajetanowicz and www.twitter.com/Kajto_pl