Fourth place after three special stages – LOTOS Rally Team crew among the frontrunners in round 9 of the 2016 FIA ERC;
After 60 kilometres of fierce battle in Latvian ERC counter just 6.4 seconds separate Kajetan and Jarek from podium position;
Special stages in Rally Liepaja demanding not only for crews but also for cars;
Four special stages to go – 43.44 kms of fight until the end of Leg 1.
The opening 60 kilometres of fierce battle during Rally Liepaja proved that Latvian gravel tests are demanding not only for competitors but also for cars. This morning's stages require also a big deal of humility and it was found out even by drivers who know these roads very well. The European Rally Championship leaders, Kajetan Kajetanowicz and Jarek Baran, began their fight in round 9 of the 2016 FIA ERC with fast and confident pace. This approach brought them stage times among the frontrunners of Rally Liepaja. Kajto and Jarek finished the opening test, Padure, right behind top three – trailing third-fastest crew by just 0.2 seconds. The Polish crew went one place higher on the following stage: their Ford Fiesta with number 1 reached the finish line of almost 18-kms Ivandae test with third-fastest result and moved into third position overall. The stages of Rally Liepaja are characterised by many cuts but at this time of the year there is a lot of grass and leaves which on the longest stage Alsunga (28.75 kms) blocked the cooling intake. As a result, Kajetanowicz and Baran struggled with overheating engine and loss of power.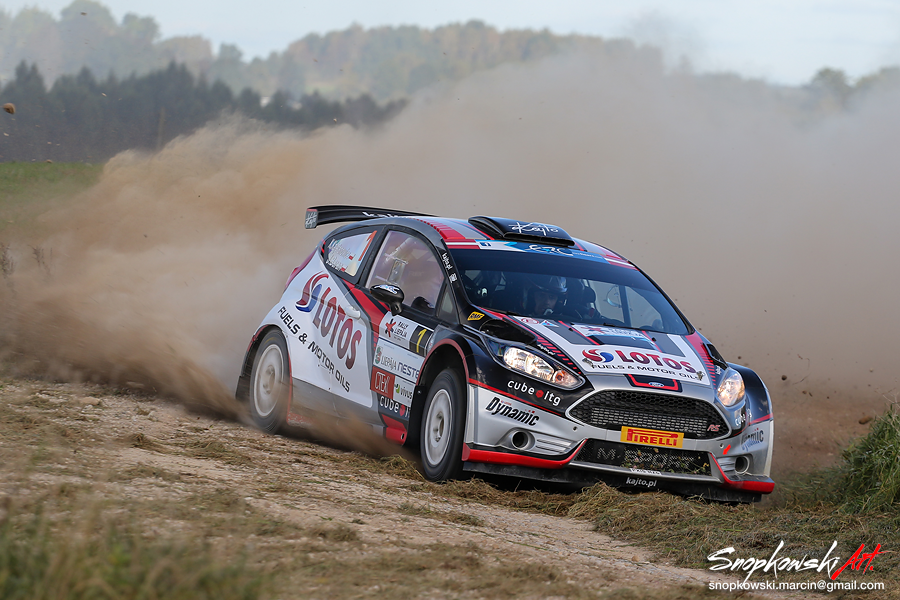 The final stage of the opening loop was also unlucky for the main rival of our crew. Alexey Lukyanuk made a mistake and lost a dozen or so seconds, just like many other drivers who reported various small problems at the finish line. The Polish duo finished this stage and maintained high position in overall standings. After three opening stages the LOTOS Rally Team crew is close to third place, losing just 6.4 seconds to the closest rivals. The local crew – Ralfs Sirmacis and Arturs Simins (Skoda Fabia R5) leads the rally.
There are still four stages to go on Saturday. Two of them – Alsunga (27.4 kms) and Padure (12.7 kms) – are classic, fast, gravel tests. On the contrary, Great Amber stage (1.67 kms), run twice, takes place on asphalt, on streets of Liepaja.
Kajetan Kajetanowicz We have completed three special stages. They are amazing – very fast, twisty in places, running through forest, with changeable grip. We took soft tyres but now I am wondering whether we should take harder ones for the second loop. Medium compound would be great at the moment (smile). On the last stage I cut one corner, the cooler intake got filled with grass, engine alarm went on and we lost some power. We had to drive slowly for couple of kilometres. We lost plenty of seconds but the situation is still under control. This is our idea for today: to drive efficiently, fast and enjoy our time in the car – but to think about the championship all the time, as this is our main goal. This is not easy, I do not want to aim at lower position which would be enough to guarantee the title. I want to enjoy these stages and only fast driving can provide it so we need to reach a proper compromise.
The results of Rally Liepaja after SS3:
1. Sirmacis/Simins (Latvia, Skoda Fabia R5) 29:40.4
2. Lukyanuk/Arnautov (Russia, Mitsubishi Lancer Evo X) +17.3 s
3. Plangi/Sarapuu (Estonia, Mitsubishi Lancer Evo X) +22.1 s
4. Kajetanowicz/Baran (Poland, Ford Fiesta R5) +28.5 s
5. Vorobjovs/Malnieks (Latvia, Mitsubishi Lancer Evo X) +44.8 s
6. Habaj/Spentany (Poland, Ford Fiesta R5) +46.7 s
7. Larsen/Eriksen (Norway, Ford Fiesta R5) +50.0 s
8. Jeets/Toom (Estonia, Skoda Fabia R5) +1:01.7 s
9. Kisiels/Ronis (Latvia, Skoda Fabia R5) +1:18.8 s
10. Botka/Szeles (Hungary, Citroen DS3 R5) +1:29.1 s
Starts of Kajetan Kajetanowicz and Jarek Baran are supported by strategic partner of LOTOS Rally Team – LOTOS Group – as well as CUBE.ITG and Driving Experience. More info about Kajetan Kajetanowicz and the team available at: www.lotosrallyteam.pl, www.kajto.pl, www.facebook.com/EmocjeDoPelna, www.facebook.com/KajetanKajetanowicz and www.twitter.com/Kajto_pl