Kajetanowicz and Baran hold high position in round 9 of the 2016 FIA ERC – after 10 special stages Polish duo is right behind top three;
50.5 kilometres to go – three special stages remain in the Latvian battle;
Efficient and assured pace of the LOTOS Rally Team crew despite technical issues which compromise their fight for podium.
The fight in Rally Liepaja enters the crucial phase. Today's opening loop consisted of three special stages and the last one is a brand new test on previously unused roads. Just like yesterday, also today on these fast, gravel stages Kajetan Kajetanowicz and Jarek Baran consistently stick to their tactic. The Polish duo drives with confidence, maintaining quick pace at the same time. It means that the LOTOS Rally Team crew sets good stage times, despite technical issues. On one of the stages this morning they even had to stop because their engine stalled and it was impossible to restart it for more than dozen seconds.
Latvian driver Ralfs Sirmacis remains in the lead of round 9 of the 2016 FIA ERC: he extended his advantage over second-placed Alexey Lukyanuk to almost one minute. Reigning Estonian Rally Champion Siim Plangi holds third position, while Kajetanowicz and Baran are currently fourth, with 21.6-seconds gap to the podium.
There are still over 50 competitive kilometres to go in Rally Liepaja. The crews face another run of the same three special stages which were contested in the morning, including the longest one – almost 23-kms final test of the rally. Ceremonial finish takes place at 15:00 CET right in the centre of Liepaja, the third largest city in Latvia.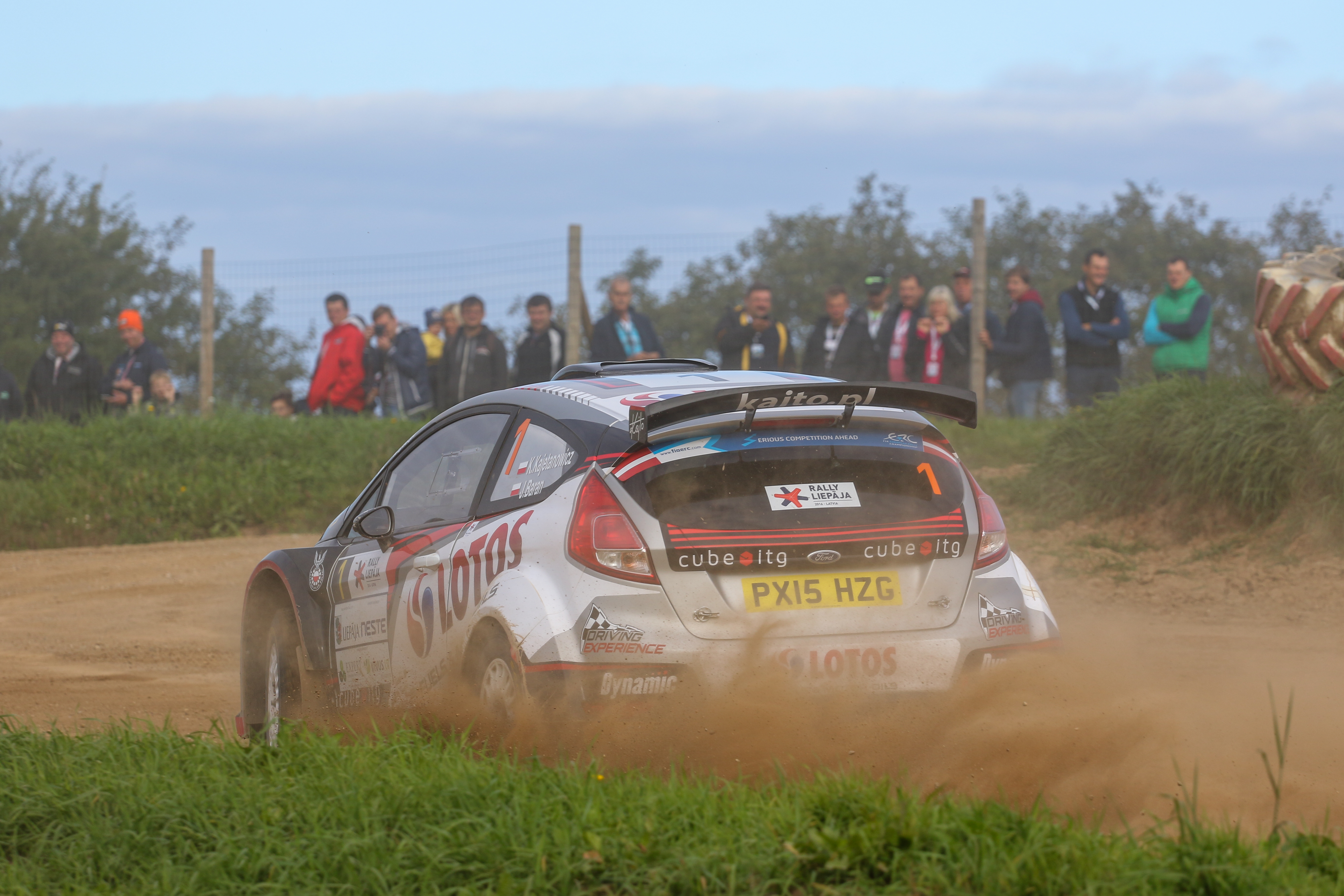 The results of Rally Liepaja after SS10:
1. Sirmacis/Simins (Latvia, Skoda Fabia R5) 1:17:43.7
2. Lukyanuk/Arnautov (Russia, Mitsubishi Lancer Evo X) +49.1 s
3. Plangi/Sarapuu (Estonia, Mitsubishi Lancer Evo X) +1:17.7 s
4. Kajetanowicz/Baran (Poland, Ford Fiesta R5) +1:39.3 s
5. Vorobjovs/Malnieks (Latvia, Mitsubishi Lancer Evo X) +2:07.1 s
6. Habaj/Spentany (Poland, Ford Fiesta R5) +2:25.1 s
7. Kisiels/Ronis (Latvia, Skoda Fabia R5) +3:44.2 s
8. Botka/Szeles (Hungary, Citroen DS3 R5) +4:42.5 s
9. Neiksans/Jesse (Latvia, Mitsubishi Lancer Evo X) +4:43.0 s
10. Svilis/Pukis (Latvia, Mitsubishi Lancer Evo X) +4:50.9 s
Starts of Kajetan Kajetanowicz and Jarek Baran are supported by strategic partner of LOTOS Rally Team – LOTOS Group – as well as CUBE.ITG and Driving Experience. More info about Kajetan Kajetanowicz and the team available at: www.lotosrallyteam.pl, www.kajto.pl, www.facebook.com/EmocjeDoPelna, www.facebook.com/KajetanKajetanowicz and www.twitter.com/Kajto_pl