The news all Polish rally fans have been waiting for: Kajetan Kajetanowicz, co-driven by Maciej Szczepaniak, enters a full-time WRC2 campaign – with seven World Rally Championship rounds in his schedule. Four-time top three finisher begins his season in South America – Rally México, on 16-19 March. The ORLEN Rally Team crew will use a proven Škoda Fabia Rally2 evo, prepared by their long-term partner, RaceSeven.
The most successful Polish rally driver has officially confirmed his participation in the 2023 World Rally Championship, in WRC2 category. He will contest seven selected rounds. For the past four years Kajetanowicz recorded four consecutive top three finishes in the championship, including two runner-up spots. Kajto has set the bar high – his supporters count on another great season and believe that he would succeed in his championship quest.
This season promises to be very interesting. The whole WRC calendar consists of thirteen rounds – two of them, Monte Carlo and Sweden, are already completed. Out of the remaining eleven rallies, there are three new events. Central Europe Rally, taking place in late October, will be run in Germany, Czechia and Austria. It replaces Rally de Catalunya, which has been a part of the championship for over 30 years. Rally New Zealand is also absent from this year's calendar – however, the promoter scheduled two events in the western hemisphere: in Chile and Mexico. The WRC fans eagerly await three exciting tarmac rounds and eleven gravel rallies – amazingly spectacular and often extremely tough. The ORLEN Rally Team takes part in one of the most challenging rounds – and Kajetanowicz is happy to begin a new World Rally Championship campaign.
– My rally dreams are coming true again and I am very happy about it. I can compete against the best drivers in the world. Our small, privateer team challenges the fastest rivals, often with factory support. This is really happening – and it is possible thanks to support of our partners who trusted us once again. I want to thank my titular partner PKN ORLEN for their full professionalism, understanding of our needs and clear rules of the game. Thanks also to my technical partner Delphi Technologies and Pirelli, SJS, Polish Motorsport Association and RallyShop.pl for continued cooperation and flexibility – so important in our relationship. We also welcome new partners on board: ATC CARGO and PLATINUM ORLEN OIL and QUAZAR LOTOS OIL brands. These possibilities of development make me really happy. I am convinced that together we can fight for big goals this season. I am looking forward to competition on special stages. We start very soon – in Mexico. Keep your fingers crossed!
– said Kajetan Kajetanowicz.
– For many years PKN ORLEN has been engaged in wide range of different motorsport disciplines which are connected to our business activities in natural way. Products of our company are delivered to almost 100 countries on six continents and this is why we constantly search for sponsorship projects with global marketing potential – such as World Rally Championship, attracting around 250 million fans all over the world. We are happy that Kajetan Kajetanowicz, the most successful Polish rally driver, starts his first full season with ORLEN Rally Team
– said Agata Pniewska, Director of Sports, Marketing, Sponsorship and Events Office, PKN ORLEN.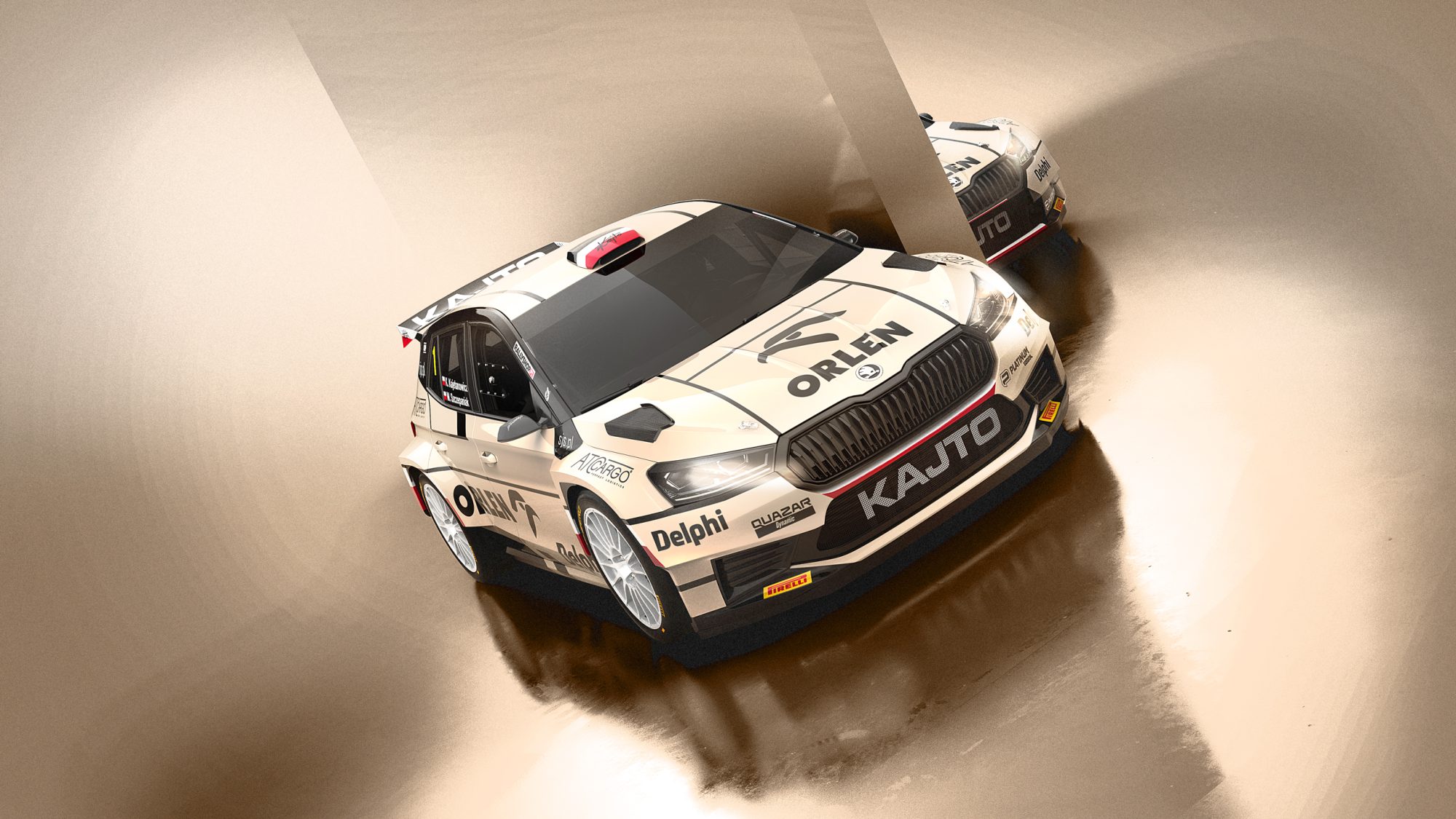 The Mexican championship counter takes place in Sierra Madre mountains, at high altitude. In some places the competitors climb to 2700 metres above sea level, tackling the sandy roads in temperatures reaching 30°C. Thin air makes life difficult for the crews and for hearts of their cars. Kajetan Kajetanowicz will use his proven Škoda Fabia Rally2 evo in Mexico.
The ORLEN Rally Team have launched their 2023 car design – with timeless, classic elegance. Undoubtedly, the car of triple European Rally Champion, in its beige, minimalist livery, will stand out in the whole WRC field.
Starts of Kajetan Kajetanowicz are supported by titular partner of the ORLEN Rally Team – PKN ORLEN, as well as technical partner Delphi Technologies, Pirelli, ATC CARGO S.A., PLATINUM ORLEN OIL brand, QUAZAR LOTOS OIL brand and SJS S.A.